Before I come up with a proper concept, I think it will be beneficial to look at products that already exist for the Save The Bees campaign. This is quite a difficult task, as there are so many different websites, however most often tend to just ask for donations - although often it isn't made very clear what the donations would go towards, whether it's further campaigning or creating safe environmental places for the bees.
This is a t-shirt I found online at JCrew, which is a t-shirt created to raise awareness of the Save The Bees campaign. The t-shirt is beautifully illustrated and fits really well with the current campaign, however the t-shirt is very expensive, as it is priced at £45. 50% of the sales goes to the campaign, however this is very expensive for a t-shirt, and the company is still taking profit from the t-shirts.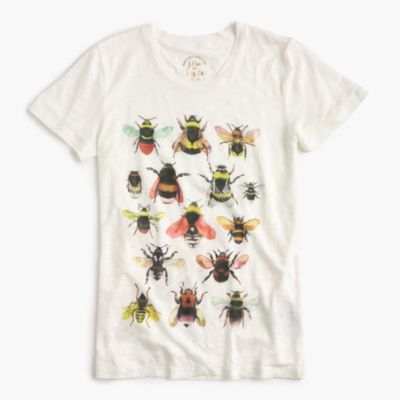 https://www.jcrew.com/uk/womens_category/Tshirtsandtanktops/shortsleevetshirts/PRDOVR~F3909/F3909.jsp?color_name=Ivory&srcCode=GGBS00003_99104355717GB_209335624_17161600744_77447180768_c_pla&sisearchengine=197&siproduct=F3909&noPopUp=true&source=googlePLA&gclid=CIKXlPGS2swCFSco0wodkFsGdQ&gclsrc=aw.ds
Another product I found available online was from Friends of Earth, and is a Bee Saver Kit. It's a really awesome idea, in fact it was an idea I had myself. In the kit, you get seeds to plant the flowers that bees thrive off and create a lot of honey from. You also receive a garden planner and a Bee ID card, which shows which bees are visiting your garden. This concept is really good, however it is clear that the kit is aimed at the younger generation, and I don't particularly think it should be limited to that. It is also very expensive for what you receive in the kit, which is something that could definitely put people off - for example, it put me off.
https://www.foe.co.uk/page/get-your-bee-saver-kit